Accolades
GLOBAL LAW EXPERTS
Office winner at the 10th Annual Global Law Experts Award, category:
Tax Law Firm of the Year in Brazil – 2019.
Global Law Experts annual awards provide a comprehensive legal sector analysis highlighting specialist areas, recognizing the excellence, innovation and performance of your nominees in a global and very challenging environment.
ANÁLISE ADVOCACIA 500
It is among the largest law firms in the country in the ranking of Análise Advocacia 500, being also highlighted among the Most Admired in all editions as of 2011.
The office was among the most admired in the tributary, consumer relations, labor, infrastructure and regulatory specialties and in the sectors of electricity, telecommunications, banking, water and sanitation, transport and logistics, construction and engineering, and retail trade.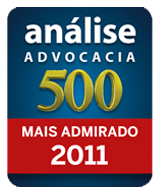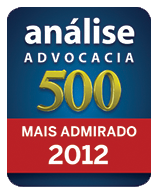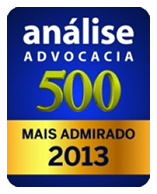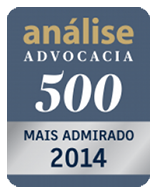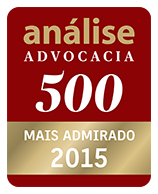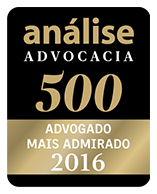 CHAMBERS AND PARTNERS
Related in the British guide Chambers and Partners in the editions of 2014, 2015, 2016, 2017, 2018 and 2019, category "DISPUTE RESOLUTION: SOUTH EAST: MINAS GERAIS AND ESPÍRITO SANTO — BRAZIL". The publication indicates to the selected offices a kind of seal of quality and international recognition and aims, mainly, to guide clients and corporations when choosing which solution to seek in legal terms.
LEADERS LEAGUE
The office was listed in the Litigation & Arbitration Guide 2018 as one of the best in Brazil and indicated as EXCELLENT in the ranking of Litigation Consumer Volume and HIGHLY RECOMMENDED in the Labor Litigation ranking of Volume.
The Leaders League is a media and rating agency for top executives at the international level, through a dynamic network of business information and people sharing leadership and management excellence.
INTERNARTIONAL ADVISORY EXPERTS
The firm is part of International Advisory Experts, a global alliance of law and finance focused, committed offices and consultancies, and provides clients with solutions tailored to their international needs and business.
The group now has experts from more than 140 jurisdictions and its firms offer first-class advice with the potential to solve any specific tax, finance and law issues in all parts of the world.